Dust suppression systems
Salma & Duztech are a world leader in the use of water for dust suppression. They have decades of experience in the manufacture of standard equipment and offering customized projects and complex solutions through studies for fixed or mobile installations of water cannons and spray systems
Operating principle
Fog cannons produce particles of water in suspension. These particles moisten the material and unleash the agglomeration of the dust particles to sizes large enough to settle. Once the powder drops reach the soil, the water evaporates leaving the material dry.

TECHNICAL CONTACT AND AFTER-SALES ASSISTANCE
Spain: (+34) 984 107 007
Email: info@salma-solutions.com
A SERIE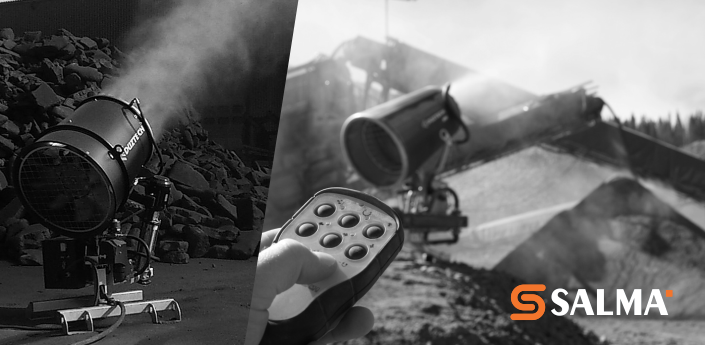 Technical Data
Equipped with a galvanized steel chassis, they are perfect for outdoor work such as demolition, construction, mining, heavy material recycling plants, among others.
M SERIE
Technical Data
The mist generated is very fine therefore very effective against the dust in the air, being also very appropriate in those sensitive places to be wetted, centers of load of bulks and ports among others.
BASIC SERIE
Technical Data
Basic barrel range for dust suppression and wetting with durability and resistance comparable to higher range models, to which the rest of the equipment can optionally be added.
TWG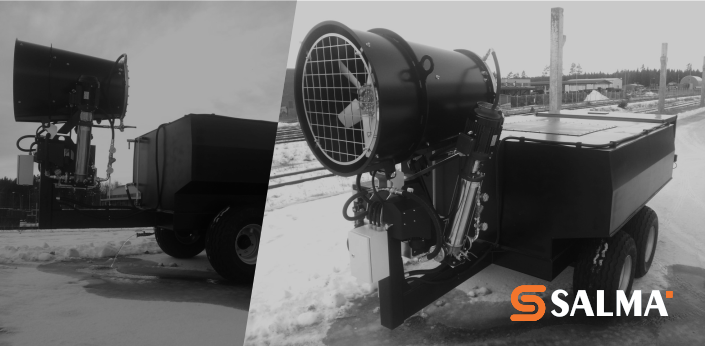 Technical Data
The fog cannon is mounted on a trailer and is integrated in a set that forms next to a water tank and an energy generator which gives a great autonomy of use.
MOSQUITO SERIE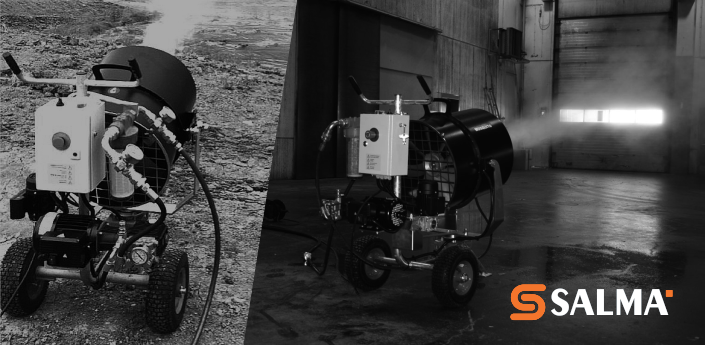 Technical Data
It is the smallest machine, equipped to be able to move by hand, compact and light, it is ideal for demolition work indoors. For this it comes ready for a single-phase connection to 220V.